I was talking to a friend earlier this week that had just been to visit a doctor with her little boy. The news she got from the doctor was not good.  Her words brought me back to the day the consultant came to my husband and I to tell us that our son Stephen had a disability. Like with my friend this week, a very negative picture is painted 'your child is handicapped, do not expect too much, he will be limited in what he can learn, may never walk or talk' and lots of other lovely words.
Your world is never the same after you receive this news. Funny thing is Stephen is now 14 and I heard those words when he was just a few months old and I can remember it like it was yesterday. I can see the look in the doctor's eyes and I can smell his after-shave. How news is delivered can have an affect many years later.

It is not an easy job for the doctors to have to meet families and give difficult news. Over the years, we have met many wonderful doctors/therapists/nurses etc who have given us practical information and communicated in a positive way.
I would like to let you know that here in Ireland we now have national best practice guidelines for informing families of their child's disability. Please see http://informingfamilies.ie/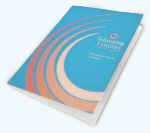 There are many groups behind this initiative, but one of the key leaders is a wonderful lady called Katherine O'Leary who is a parent of two children with disabilities. They have produced a detailed set of guiding principles and recommendations, based on extensive research.
I had the pleasure of hearing Katherine speak at our local university (she was doing a guest lecture to medical students) recently on this subject. She spoke about the importance of trust and solid information. She shared positive stories from families of receiving very difficult news but delivered to them is a very good way.
Life does go on after you receive the news that your child has a disability. You still have a wonderful child who you love and who loves you. And yes there are challenges, but plenty of joys too. Surround yourself with positive people, limit those that bring negativity. Keep smiling (somedays through gritted teeth) and laughing, mind yourself, take one day at a time and enjoy the journey of life!
Best wishes always,
Avril